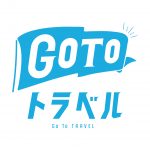 Really happy to report that Hidden Japan Travel have been chosen for the GoTo Travel Campaign. This means we can offer a 35% discount on two tours – Cycle the Shimanami Kaido and Matsuyama Food and Culture. Watch also for future taxi and cycling tours.
Please get in touch to check dates and prices. You can do that via this page.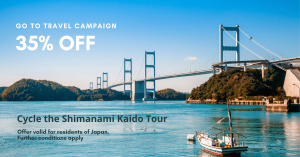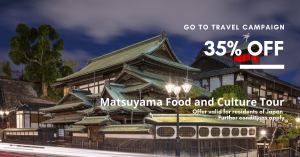 Learn about the conditions
Here is more info about using the discount:
Users of the GoTo Travel campaign must be residents in Japan (excluding residents of Tokyo)
If you live in Tokyo, you cannot currently use the campaign.
Your ID will be checked before the start of your tour. Please prepare a photo ID and proof of address.
When travelling, take appropriate action to prevent the spread of infection.
If you have a smartphone, please use the tracing app to report any symptoms.
Before the start of your tour, we will ask you to give signed confirmation that you are using the Goto Travel campaign discount.
Additionally, please note the following features of new travel manners.
Please conduct morning health checks (e.g. temperature, etc.)
Avoid talking too loudly while eating
Avoid talking too loudly on transportation
Wear a mask
Avoid crowds
Wash or disinfect your hands frequently
Avoid touching products unnecessarily (e.g. souvenirs you don't intend to buy)
If you have any questions about how your tour will be COVID safe, please ask us before booking your tour or prior to the start of your tour. We look forward to welcoming you soon.