From Sea to Volcano: A Six-Day Cycle Tour
Guided Tour
An epic cycling tour of rural Japan with incredible road cycling. A six-day road cycling tour spanning three of Japan's four main islands. Experience Japan's beauty, history and culture as you cross breath-taking bridges, cycle up awesome mountains and a volcano, bathe in historic hot springs, stay in traditional and modern accommodation, and eat outstanding local cuisine. Unforgettable.
ABOUT THIS TOUR
Venture into the countryside for some of the best road cycling Japan has to offer – dramatic landscapes, epic bridges, challenging roads, beautiful seascapes, great accommodation, and fantastic local cuisine. This is the only cycling tour in Japan that takes you to three of the four main islands, along two of Japan's most famous roads, from the sea to the bubbling caldera of the largest active volcano in Japan. It's perfect for those who love cycling and want to experience the incredible range of Japan's natural beauty. Quite simply, we think it's the most breath-taking cycle tour in Japan.
Read More
Start of the trip
Onomichi
Duration: 6 days, 5 nights
Difficulty: 4/5 – Suitable for people who frequently cycle and who don't hate hills. We have e-bikes (subject to availability) if you need a helping hand.
Price: From 310,000
Group size: Generally 4-8 guests (contact us for smaller or larger private tours – we can accommodate groups of ANY size)
Mixture of traditional and modern Japanese hotels
Bike and helmet rental
Cycling guide and support van
Five nights at a mixture of traditional and modern Japanese hotels (enquire for prices for single rooms)
Dinner (days 1-5) and breakfast (days 2-6)
Transport fees while on the tour (e.g. ferry)
luggage transfer
A water bottle
Prices from ¥310,000.
We need a minimum of 4 to run the tour.
We can offer the tour as a private tour to groups (4+).
There is no fee for single travellers. You will share a room with another group member. If you require a single room, there will be an additional supplement.
We can provide airport transfers from nearby airports. There may be an additional fee depending on airport and numbers. Get in touch for more information.
We can accommodate large groups – cycling clubs for example.
We can run the tour for smaller groups who want a private tour. Please enquire for prices.
After reading the Terms & Conditions, click the Enquire about this Tour button and submit the form.
We will get back to you to confirm details. We will then send you a booking form.
Once you've sent this back to us, we'll arrange for payment of your deposit, which is 10% of the trip price. We accept credit cards and wire transfer.
Full payment is due 21 days prior to the first day of the trip.
Please click here for our terms and conditions.
Day 1: The Shimanami Kaido
65 kms | Rolling hills | Next to the sea | Lunch & Dinner | Western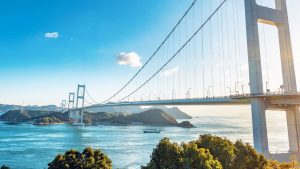 Meet at Onomichi train station and ride out on the Shimanami Kaido. Cross 6 islands and stay in a hotel overlooking the Seto Inland Sea. Onomichi is accessible by bullet train and close to Hiroshima Airport (click here to learn about cheap internal flights). Contact us if you require pick up. We can also organise accommodation in Onomichi the night before the tour if needed.
Day 2: Matsuyama
55 kms | Mostly flat | Next to the sea with hill climb options | Breakfast & Lunch | Western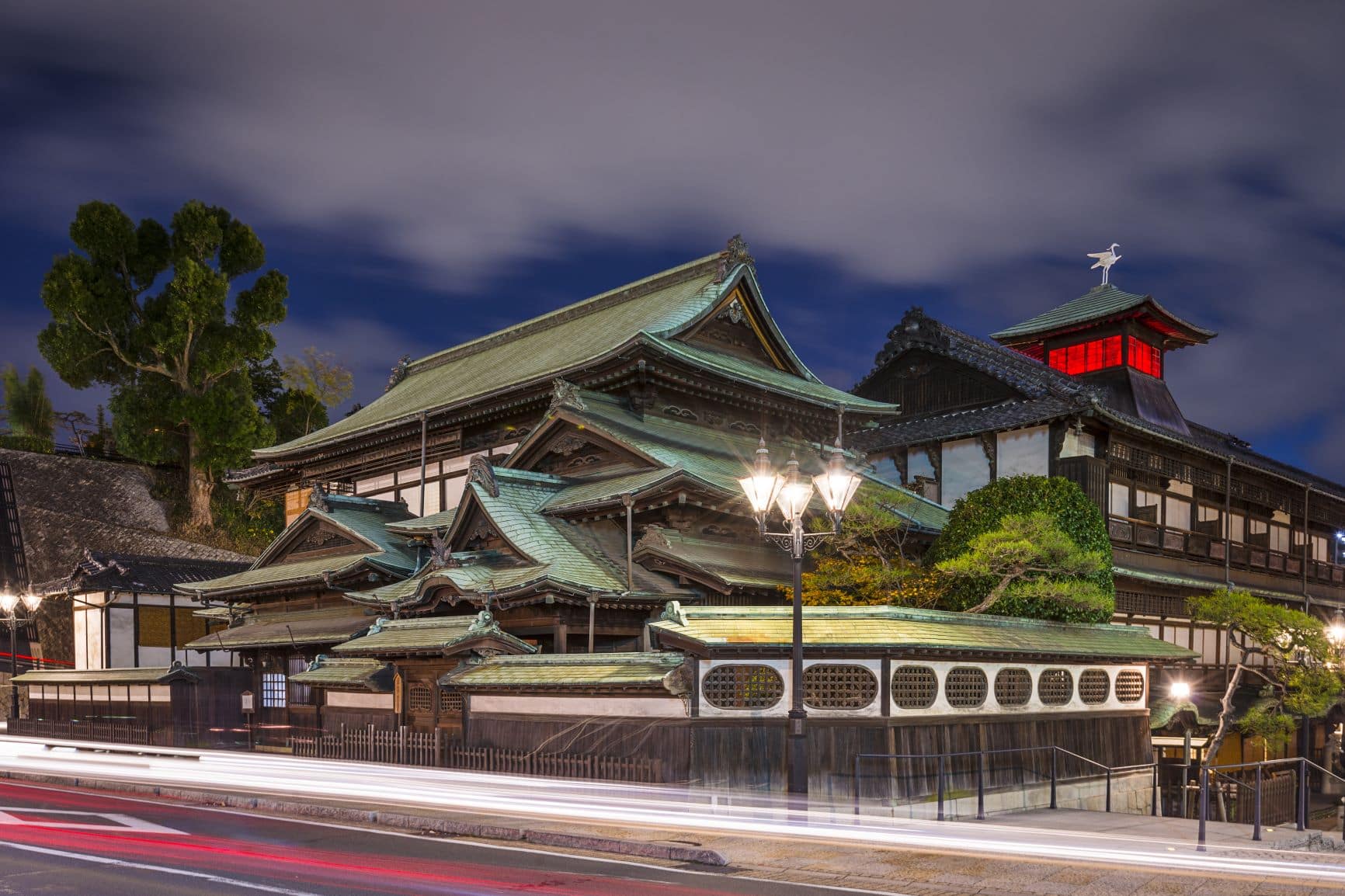 Cycle along the beautiful coast, past beaches and temples, to the city of Matsuyama, the most lively city on Shikoku. Stay in the historic Dogo hot spring area, with the oldest hot spring in Japan. There are opportunities for night tours of the Dogo area, sake tasting, visiting Matsuyama castle, or having dinner with a local family.
Day 3: Epic coastline
85 kms | Rolling hills | Next to the sea  | Lunch & Dinner | Japanese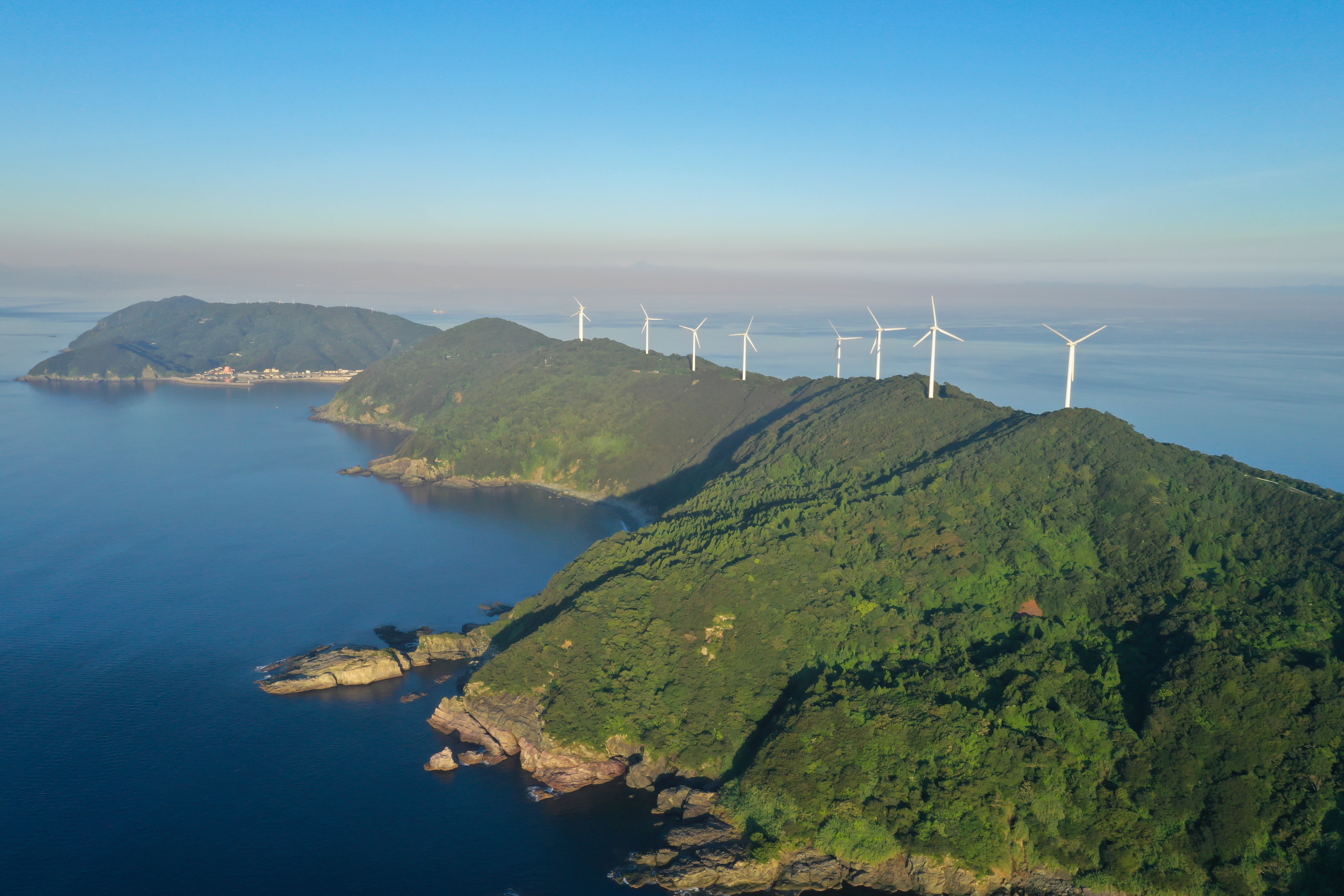 Optional morning visit to Matsuyama castle. Cycle along the epic coastline of western Shikoku, with incredible beaches and small towns. Journey along the brilliant melody line towards the western-most point of Shikoku.  Approximately 85kms of cycling.
Day 4: Yufuin
65 kms |
Flat then climbing   |
Ferry/Into the mountains|
Breakfast & Lunch |
Japanese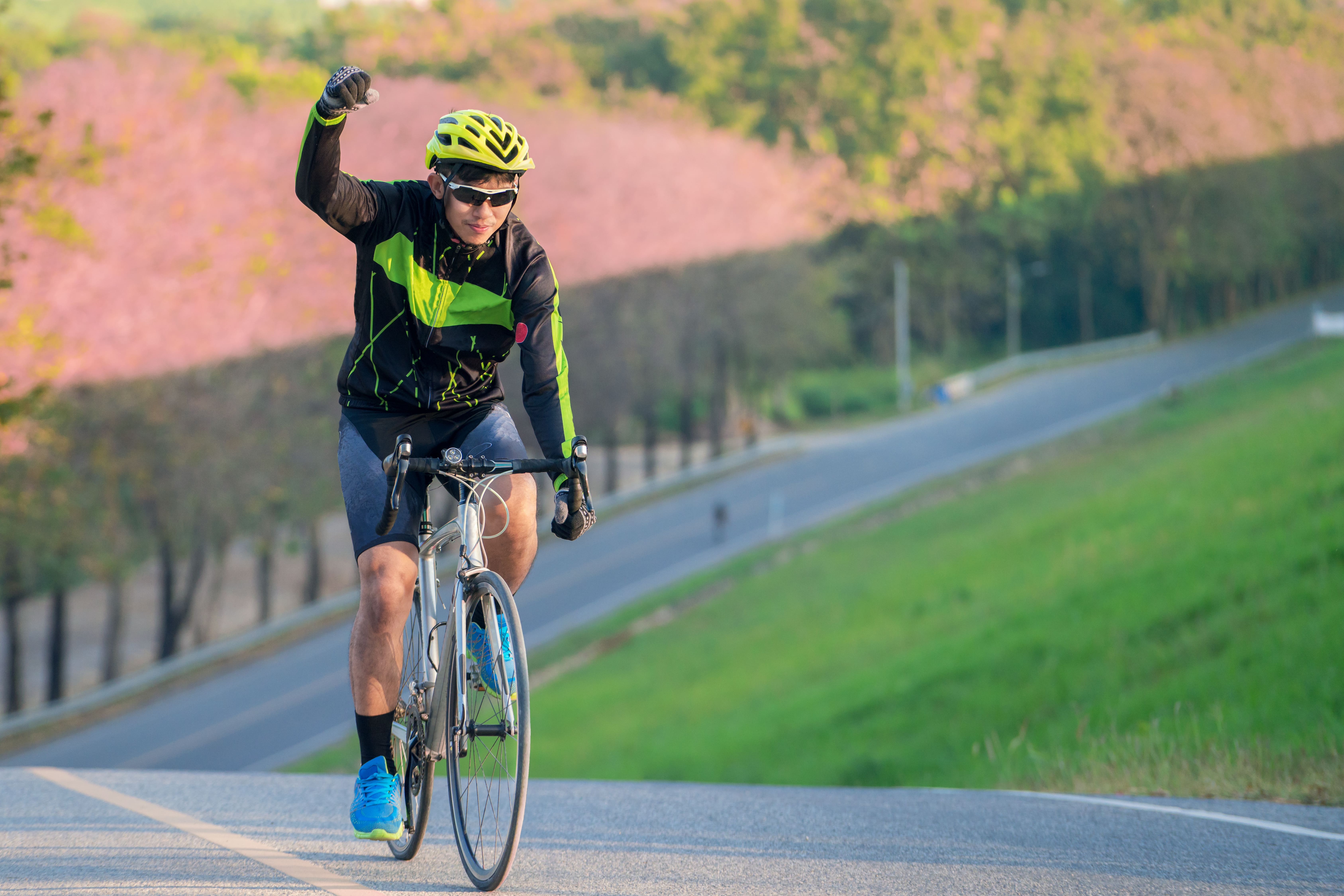 Start the day by taking a quick ferry ride to Kyushu, the western island. Then we cycle to the historic city of Beppu. From there we climb over Mt. Yufu (one of our favourite climbs) and stay in the hot spring town of Yufuin. Approximately 65kms of cycling.
Day 5: The Yamanami Highway
Day 6: Aso
OTHER TOURS YOU MIGHT LIKE…
MATSUYAMA FOOD AND CULTURE
Cycle from Sea to Volcano Contact Form