Cycle the Highlights of Shikoku
Guided Tour
A 6 day 5 night guided and fully supported cycling tour across Japan's remotest island. Experience outrageous views, fascinating history, and enchanting culture as you cross the Shimanami Kaido, climb into the mountains, journey through cities and small villages, eat outstanding local food, and stay in a mixture of traditional and modern accommodation. This tour takes you on fantastic roads to the best parts of the island – great cycling and great travel!
ABOUT THIS TOUR
Explore Shikoku and the best cycling that Japan has to offer. Unbelievable landscapes, epic bridges, challenging climbs, cinematic seascapes, great accommodation, and stunning local cuisine, this seven-day tour takes you through the heart of Shikoku and visits the natural and cultural highlights of the island. It's perfect for those who love cycling and want to experience the varied beauty of Shikoku, Japan's best kept secret.
This tour lasts 6 days and 5 nights, with epic cycling and plenty of time to enjoy the villages, towns and cities through which we pass. The tour starts in Onomichi, the start of the world-famous Shimanami Kaido. Cycling over the Shimanami Kaido and staying on one of the islands, we leave Honshu behind. On Day 2, we cycle the rest of the Shimanami Kaido and enter Shikoku, making our way to the traditional and culturally important city of Matsuyama. That evening we stay near Dogo Onsen, with opportunities to visit one of the oldest castles and the oldest hot spring in Japan. See the sites, enjoy hot springs, visit local sake distilleries, and much more.
Read More
Start of the trip
Onomichi
Duration: 6 days, 5 nights
Difficulty: 4/5 – Suitable for people who frequently cycle and who don't hate hills.
Price: 200,000 JPY (click here to see how much this is in other currencies).
Group size: 3-6 guests (the tour needs three people to run). Please get in touch if you have a bigger group.
From 225,000 JPY per person based on shared twin room.
There is no fee for single travellers. Single travellers share a room with another group member. If you require a single room, there is a supplement of 50,000 JPY. Please note, it may not always be possible to meet all requests for single rooms.
We need a minimum of 3 to run the tour. The tour will be cancelled if this threshold is not met.
The price is based on camping on one night. If you do not want to camp, please let us know and we can organise other accommodation. There may be an additional fee associated with any upgrades.
After reading the Terms & Conditions, click the Enquire about this Tour button and submit the form.
We will get back to you to confirm your reservation and send you a reservation form.
Once you've sent this back to us, we'll arrange for your payment. We accept credit card and wire transfer.
Please click here for our terms and conditions.
Additional Conditions
be able to cycle 50-80kms per day for 6 consecutive days. The average distance is 63kms a day.
have travel insurance. We won't check this but it is a condition of the tour.
Day 1: Onomichi - Hakatajima (The Shimanami Kaido) 
50km | Sea, The Shimanami Kaido | Lunch, Dinner| Range of options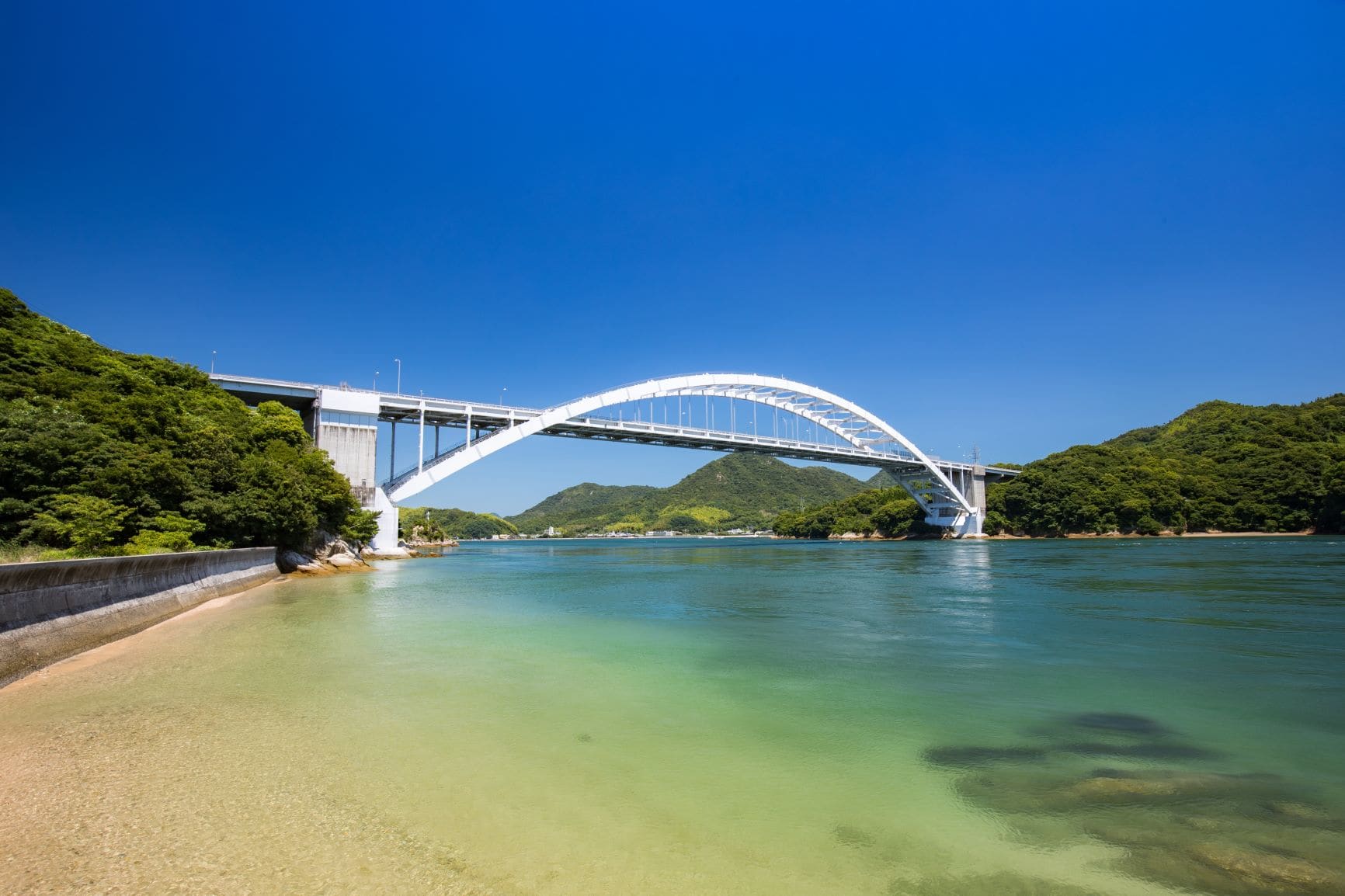 Meet at Onomichi Station in the morning. Onomichi is accessible by bullet train and close to Hiroshima Airport (click here to learn about cheap internal flights if you live outside Japan). Cycle over the world-famous Shimanami Kaido. We'll cover 5 islands, see spectacular views and explore the culture of the Seto Inland Sea. We'll camp in our favourite camp site, located right next to the sea in a stunning location. If you'd prefer not to camp, we can arrange a guest house or a hotel for you.
Day 2: Hakatajima - Matsuyama
70 kms | Total 550m ↑ | The Shimanami Kaido, sea, castles | Breakfast, Lunch, & Dinner |  Business hotel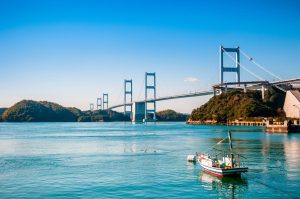 Finish the Shimanami Kaido by cycling over the last two bridges – including the epic Kurushima Bridge. we then head down the coast to historic Matsuyama, the prefectural capital of Ehime. We cycle through the city, looking at the castle, towards the hotel in the Dogo area. Enjoy the famous Dogo Onsen area in the evening with a local dish, tai meshi and a glass of local sake. Free time after dinner.
Day 3: Matsuyama - Nakatsu Gorge
Day 4: Nakatsu Gorge - Kochi City
55 kms | Total 120m ↑| Mountians & rivers | Breakfast, lunch, & dinner | Business hotel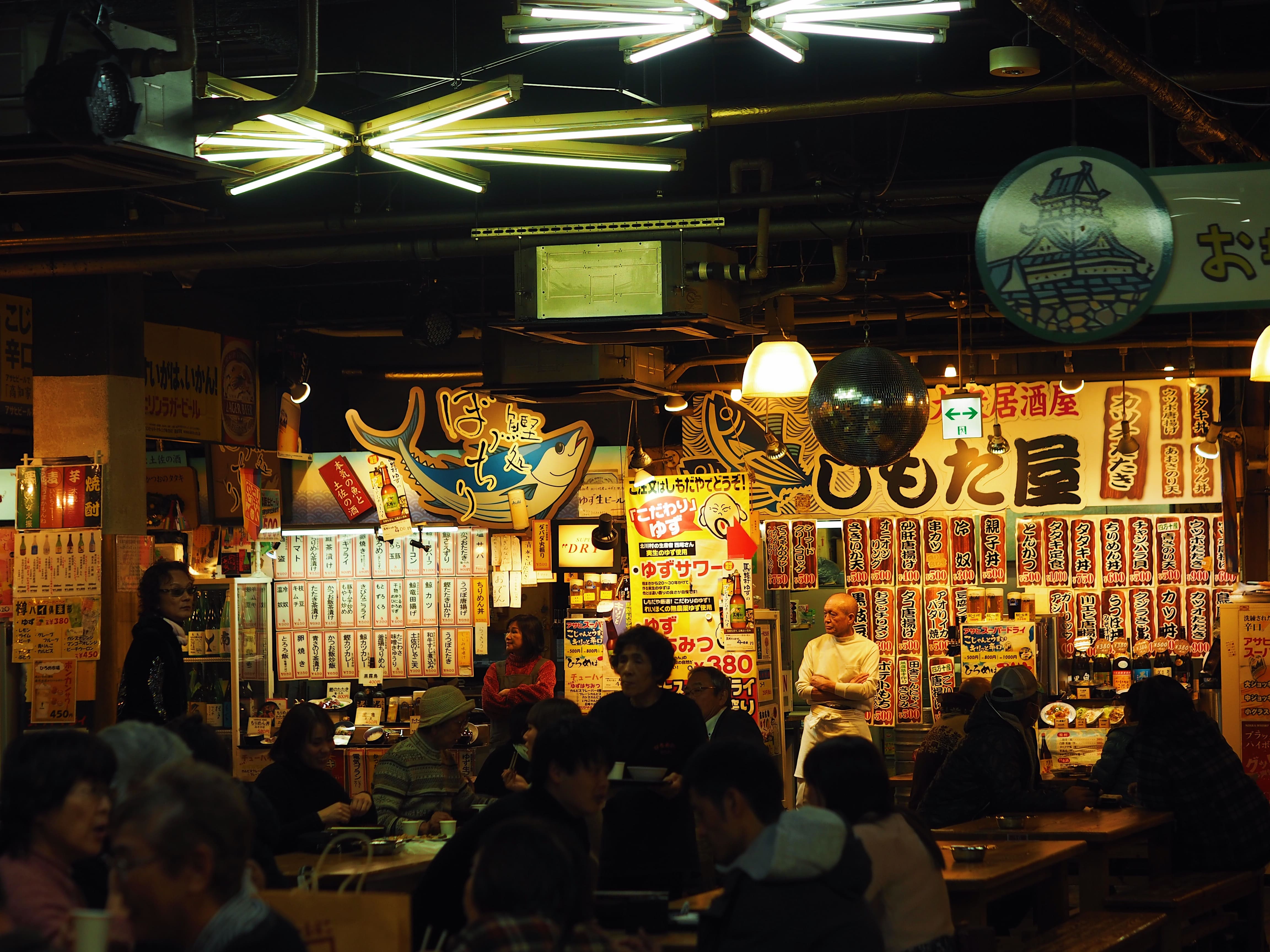 An optional morning walk in the spectacular Nakatsu Gorge. Then cycle out of the mountains along one of Japan's most celebrated rivers, with opportunities for impromptu wild swimming to cool off. Reach the city of Kochi and visit a famous street food market.
Day 5: Kochi City - The Iya Valley
80 kms | Total 1000m ↑ | Mountains & gorge | Breakfast, Lunch & Dinner | Japanese hot spring hotel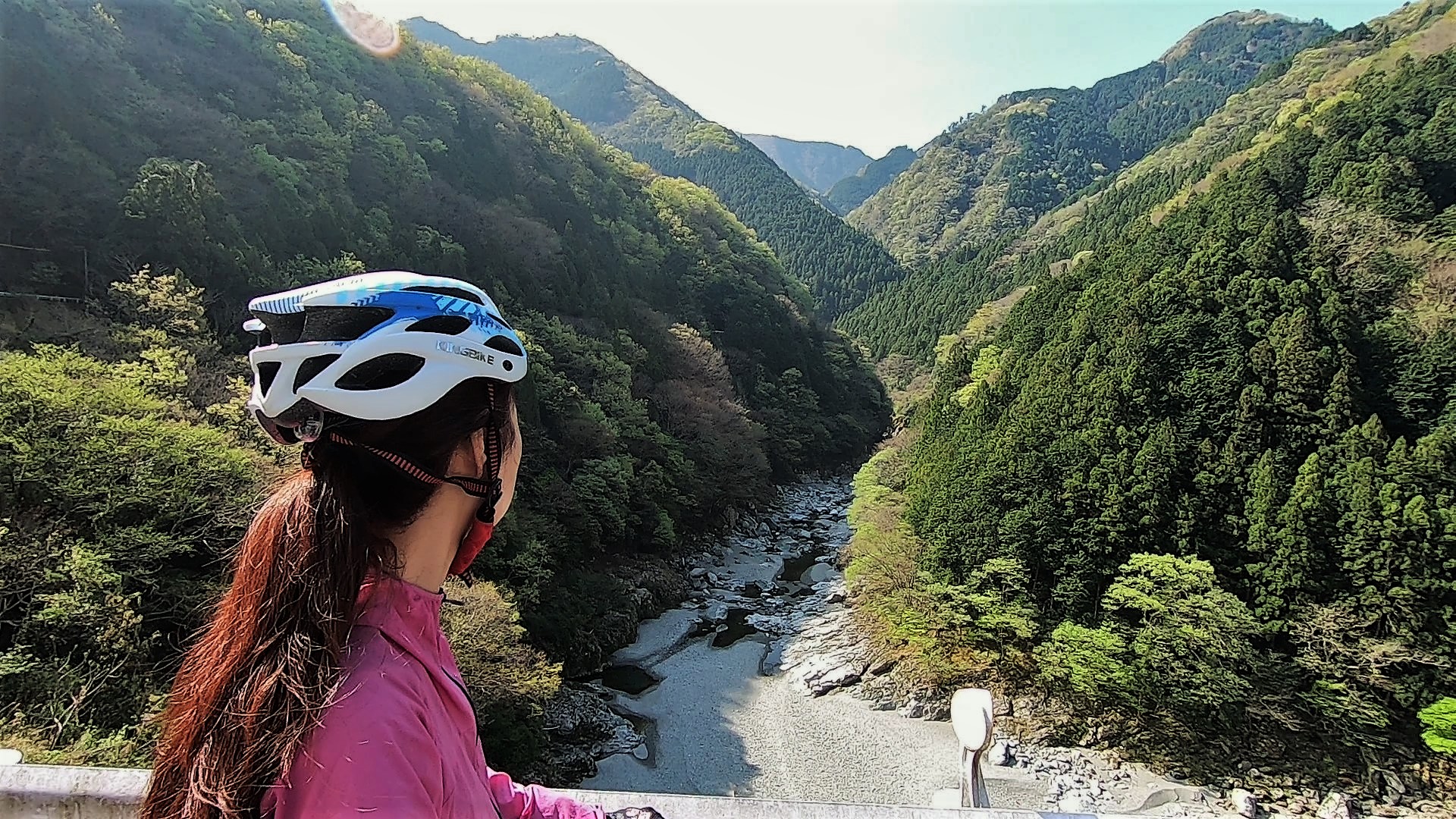 Cycle out of the city and up into the celebrated Iya Valley. A challenging climb rewards outrageous landscapes. Cycle down the valley surrounded with terraced rice fields and walk across the famous vine bridges of the Heike warriors. Stay in a traditional Japanese inn with a funicular railway to a riverside hot spring.
Day 6: The Iya Valley - Kompira Shrine
50 kms | Total 500m ↑ | River & mountains | Breakfast & Lunch | Final day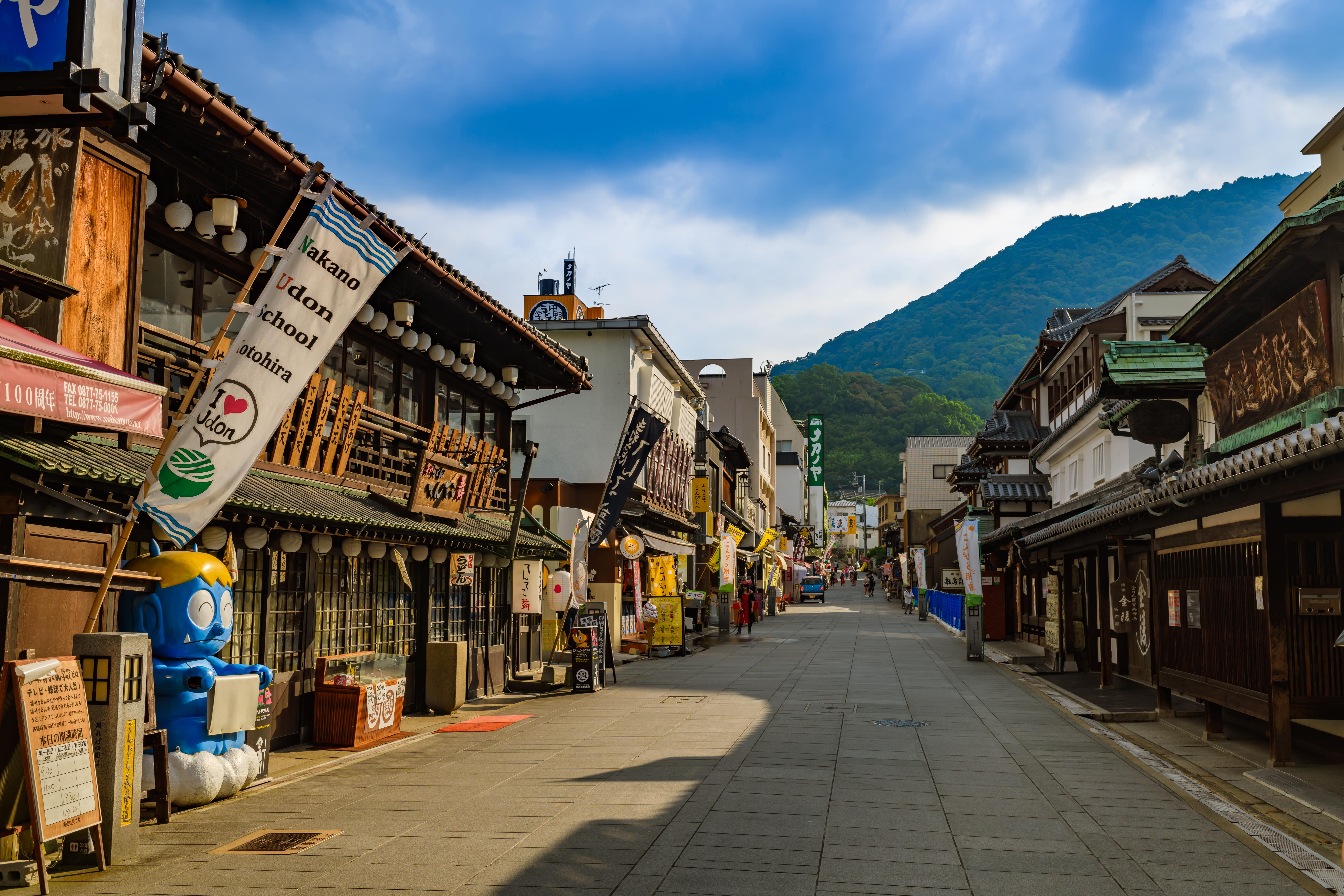 Journey out of the Iya Valley  along the beautiful Yoshino River. After a final climb, we arrive at the acclaimed Konpira Shrine, a popular area and our final highlight. After exploring the shrine, we share a drink and reflect on our six-day journey into hidden Japan. There are train stations nearby that connect with the bullet train. Alternatively, Takamatsu Airport is a few kms away (click here to learn about cheap internal flights if you live outside Japan). Let us know if you require airport transfer or would like us to organise accommodation for the final night.
AFTER YOUR TOUR, WHY NOT…
MATSUYAMA FOOD AND CULTURE
Cycle the highlights of Shikoku