Shimanami Kaido Sea Kayak & Cycling
Guided Kayak & Self-Guided Cycling Tour
Experience the breath-taking beauty of the Seto Inland Sea as you journey by sea kayak and bicycle on this three-day adventure. One day sea kayaking and two days of cycling, travelling from Honshu to Shikoku, staying in traditional Japanese hotels, eating exceptional local food from the area. Suitable for cyclists of all levels.
ABOUT THIS TOUR
Leave the city behind as you venture into rural Japan, experiencing the best that the Seto Inland Sea has to offer – dramatic landscapes, epic bridges, beautiful seascapes, great accommodation, and fantastic local cuisine. This is the only sea kayaking and cycling tour in the area and is the perfect way to truly experience the Shimanami…from the sea and the road. It's perfect for those who love the outdoors and adventure, but also want to experience traditional hotels and interact with locals.
This tour lasts 3 days and 2 nights, with two days of cycling and one day of sea kayaking. The tour starts in Onomichi, near Hiroshima and finishes on the other side of the Inland Sea, in Imabari on the island of Shikoku. To find out more about the Shimanami Kaido, click here.
Read More
Duration: 3 days, 2 nights. One day sea kayaking and two days cycling.
Difficulty: 3/5 – suitable for those with a reasonable level of fitness. You do not have to be a cyclist to enjoy this tour. We have e-bikes (subject to availability) if you need a helping hand.
Requirements: You need to be able to swim and ride  a bike to take this tour.
Group size: We can work with groups of most sizes, from couples to larger groups. (contact us for information about solo travellers)
Adults (12+) – 92,500 yen per person based on shared room.
Children (under 12) – 60,000 yen per person.
After reading the Terms & Conditions, click the Enquire about this Tour button and submit the form.
We will get back to you to confirm your reservation and send you a registration form.
Once you've sent this back to us, we'll arrange for payment of your deposit, which is 10% of the trip price. We accept credit cards and wire transfer.
Full payment is due 21 days prior to the first day of the trip.
Please click here for our terms and conditions.
The cycling portion of this tour is self-guided…maybe you're thinking "Is it worth doing a self-guided tour?". Well, yes!
Not only do we take care of everything – accommodation, luggage transfer, bike rental – but we're also on hand in case you need support. We're never too far away! We also provide very detailed maps. These have information about the history of each island and our favourite places to enjoy the local culture, nature, and cuisine. We send you this information as a PDF prior to your tour so you can start planning your adventure from the options we suggest. We hand-pick these locations based on our local knowledge of the area and the needs of our guests. We also choose great hotels – the ones with the most character, the best food, and the most relaxing views. We can provide a phone in case you need to get in touch and electronic maps so you can navigate to your hotels easily. All this means that you can concentrate on having a unique experience that's facilitated by local knowledge and supported safely if anything goes wrong.
So yes, doing a self-guided tour (with us), is defintely worth it!
Day 1: Sea Kayak
35 kms | sea kayak | Stunning seascapes, spectacular bridges, and remote beaches | Lunch, Dinner | Japanese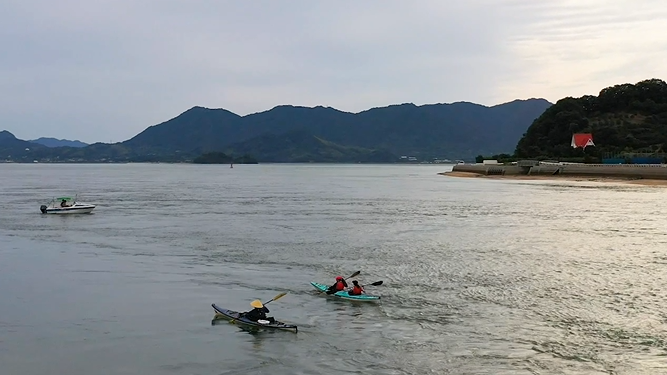 On the morning fo the first day, meet at Onomichi train station and travel to the start of the sea kayaking. Meet your guide and get a lesson in kayaking, then head out to sea, following your guide. You'll stop along the way for some lunch, and then carry on to your accommodation. In total, it's about 6 hours on the water. When you get to your accommodation, your bags will be waiting for you and your dinner will be ordered.
Day 2: Cycle over the Islands
35 kms |
Some ups and downs |
Next to the sea, shrines and temples, rabbit island|
Breakfast & Dinner|
Japanese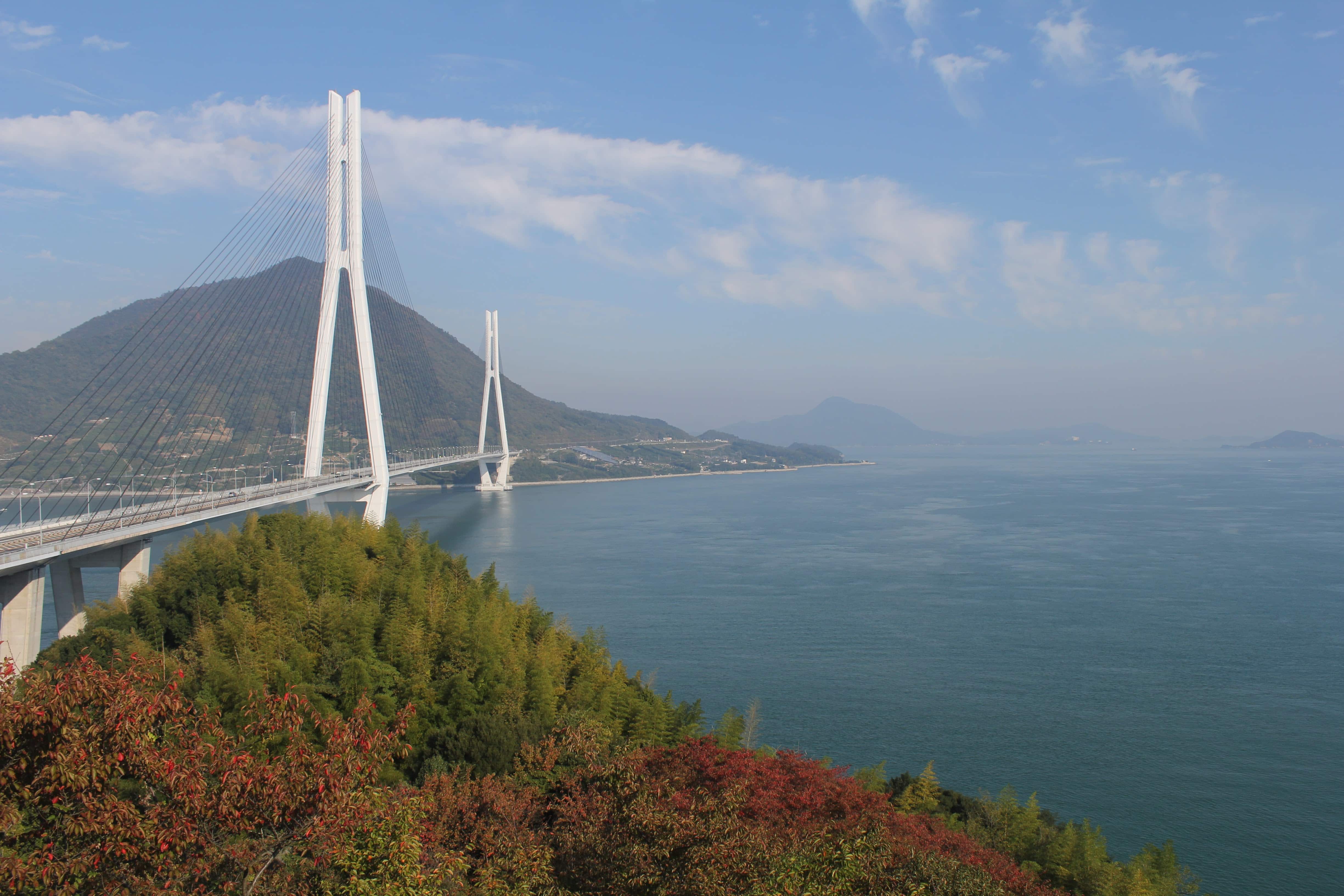 Day two starts with a traditional breakfast. After leaving your luggage at reception, we'll meet you to pass you the bikes and helmets. You'll then set out for a day on the road. There's approximately 30kms of cycling on the second day with lots of opportunities for detours – temples, beaches, mountains, and street food. Arriving at your accommodation, you'll once again find your bags and a spectacular dinner of local specialities waiting for you. Sitting on the sea front and breathing in the sea air, before a first-class meal and a relaxing bath, that's how to truly see Japan.
Day 3: Ride to Imabari
35 kms | Some ups and downs| Next to the sea, spectacular bridges | Breakfast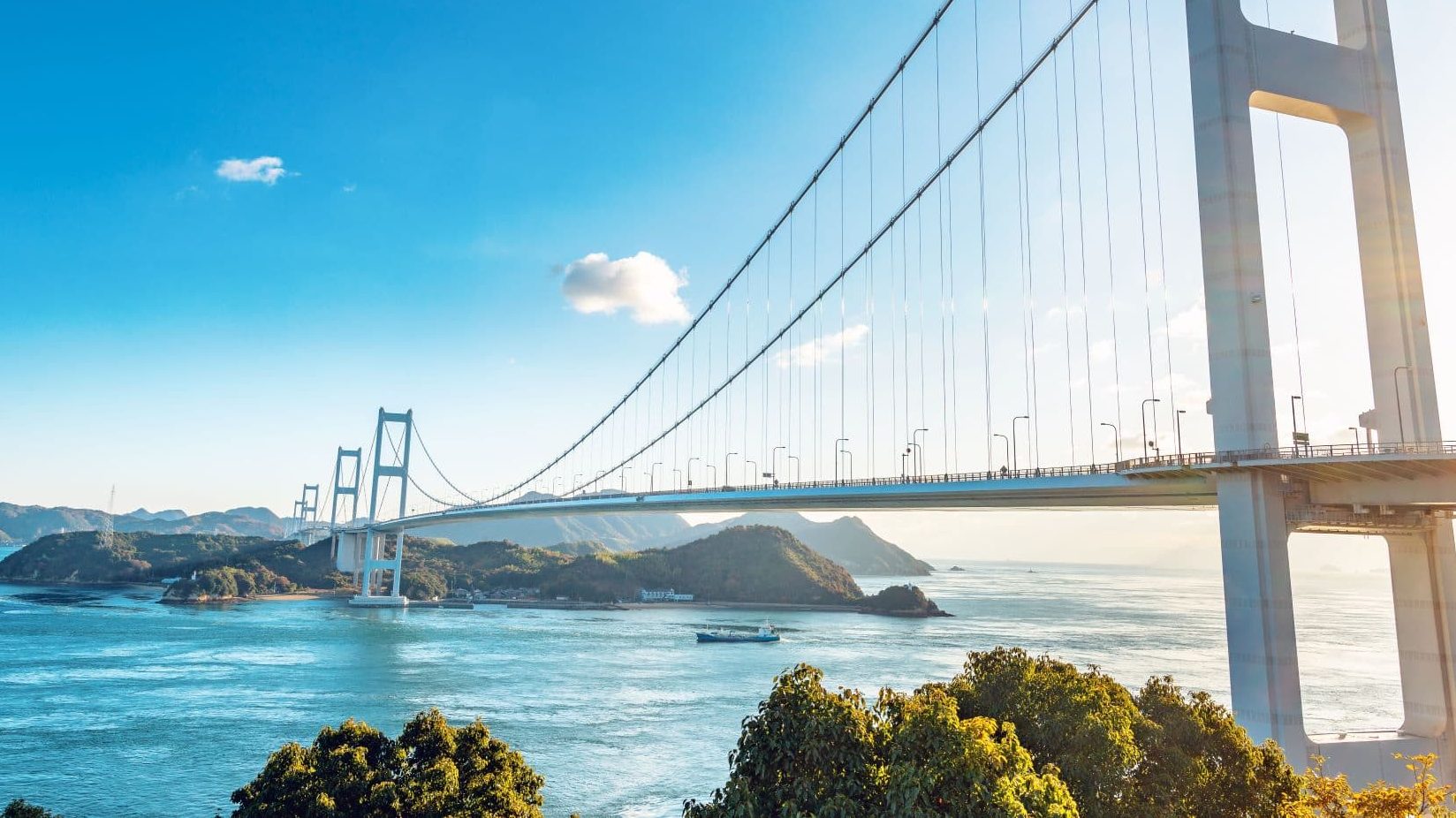 After another traditional breakfast and leaving your bags for us to pick up, it's back on the bike one last time. On the final day you've got two islands to explore and the most picturesque bridge of the lot to look forward to…leave at least an extra 30 minutes for photos! After that, Shikoku awaits. Once you arrive on the island, you will head towards Imabari train station where we'll be waiting with your luggage and a smile. This is a wonderful springboard into Shikoku proper or an easy place from which to return to Honshu (by train to Okayama or boat to Hiroshima). Either way, we're sure you'll have special memories of this hidden part of the Japan, and a better sense of this fantastic country.
Hidden Japan Travel were an absolute pleasure to work with in scheduling a three day, two night Shimanami Kaido tour. From the first email inquiry, to the day we dropped our bicycles off in Imabari, everything was handled so professionally and with excellent customer service. My only regret is that we could not spend a few days exploring Shikoku. Miho and Sam were so helpful and friendly, and they truly love this area of Japan!
Kristy & Family
Japan
My friend and I did this tour for 2 nights and 3 days. The sea kayak was unforgettable. The guide was very kind and made us feel we're safe all the time. For lunch we stopped in one of the islands and the guide made us a bowl of udon which we really enjoyed! I can't think of a more perfect time. Hidden Japan Travel's priority is for their guests to have a fun and memorable trip.
Chit & Jerica
Philippines
AFTER YOUR TOUR, WHY NOT…
Shimanami Kaido Kayaking & Cycling Contact Form