Make Soba noodles with locals
Guided Tour
Experience the warmth of the Japanese countryside with a traditional Japanese cooking class in the heart of the Shikoku mountains. This tour offers you a window into authentic Japan and is sure to be a highlight of any trip to Japan.
ABOUT THIS TOUR
Making soba is a perfect entrance into Japanese cuisine and culture – whether you have limited cooking experience or are a Michelin-starred chef, there is nothing like taking a Japanese cooking class with locals surrounded by wild nature. On this trip, a local will show you the process of making soba – from mixing the flour and kneading the dough, to chopping and boiling the noodles. The vast majority of the ingredients you'll use are grown and harvested in the valley, lovingly prepared by the very lady who teaches you. After we've made the food, we'll all sit down together to eat the product of your hard work.
Day 1
Start and finish in Matsuyama
Duration: 1 day
Difficulty: 1/5 – there is a stunning gorge nearby that we like to walk in. The walking isn't difficult.
Price: Starting from 12,000 JPY (click here to see how much this is in other currencies)
Group size: We like to work with small groups but can fit in groups of most sizes. We need at least 3 to offer the trip.
Travel to a remote valley in the heart of the Shikoku Mountains – incredible scenery.
Make soba noodles with an amazing local – she's fantastic!
Walk into an wild gorge, simply one of our favourite locations on Shikoku. Epic.
This private one-day trip starts at 9 am and runs until approximately 4 pm. A local guide will meet you at Dogo station in Matsuyama City. From there you'll travel for approximately one hour to the valley. Please get in touch if you'd like to meet at another location. This tour includes: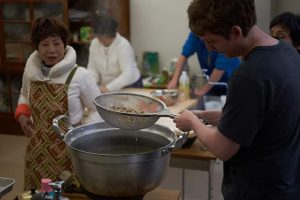 transport to the heart of the Japanese countryside

learning to make soba (buckwheat) noodles with local residents

lunch (soba noodles and some homegrown extras)
walking through a gorge
having tea in the Belly of the Dragon
transport back to Matsuayama – drop off at Dogo Tram Station.
Optional: A dip under the waterfall(!)
Adults (12+) – 15,000 yen per person.
Children (under 12) – 8,000 yen per person.
After reading the Terms & Conditions, click the Enquire about this Tour button and submit the form.
We will get back to you to confirm your reservation and send you a registration form.
Once you've sent this back to us, we'll arrange for payment of your deposit, which is 10% of the trip price. We accept credit cards and wire transfer.
Full payment is due 21 days prior to the first day of the trip.
Please click
here
for our terms and conditions.
We need at least three people to run this tour.
As the teacher needs to organise ingredients, please book at least one week prior to the day of your tour.
All tours will be led by a guide who was born and raised in this part of Japan and who speaks English.
All fees associated with the tour are included in the price.
You are advised to wear casual clothes and shoes that you do not mind getting muddy. There may be times when you have to walk through a little water. This is not dangerous, but your shoes might get wet. Also, it can be cold in the gorge, so please bring a jacket.
If you want to go under the waterfall, please bring a towel and an appropriate change of clothing.
There are a few ladders to climb up and down as you can see in the photos. These are metal and the tallest is around 10 feet. You do not have to use the ladders if you do not feel comfortable doing so.
1 Day Tour
2 kms | Walk up a gorge | In the mountains with amazing views | Lunch
We'll meet you in city of Matsuyama and travel to the gorge. You'll then meet your teacher and start making the soba dough. You will learn the whole process – mixing, kneading, chopping, and boiling. We'll all eat lunch together and then head into the remote gorge. Walking to the end of the gorge and the dramatic waterfall and the Dragon's Belly. Grab your swimming kit for a dip under the waterfall if you're brave. We'll then head back to Matsuyama, arriving at approximately 4 pm.
It was awesome. It wasn't just a workshop and eating, but they also explained the whole process to us that was really interesting. Then the gorge was awesome – we wouldn't be able to find it on our own! The waterfalls were lovely.  The dragons' belly and river makes it really amazing.
Jan
Czech Republic
This Japanese cooking class in the middle of the mountains was awesome. Me and two friends spent an extra day in Matsuyama to do this and it was totally worth it. To actually have an cooking class with locals and local food, then an inspiring walk was amazing.
Minako
USA
The cooking class was fantastic. The local ladies were so kind – it was a unique and personal experience. Then the nature was so beautiful. We felt like we were exploring a lost world. Would definitely do this again!
Jennifer
Australia
Loved Hidden Japan's cycle tour and so we also did a cookery experience with them in the mountains near Matsuyama. So interesting and so much fun and finished off with a feast/eating extravaganza. It was great to be taken somewhere so unique and beautiful and be taught how to cook this traditional dish using ingredients all grown in our cookery sensei's garden. Our teacher was incredibly sweet, friendly and fun. Her house was extraordinary with a superb view.
Luke
UK
AFTER YOUR TOUR, WHY NOT…
​
MATSUYAMA FOOD AND CULTURE
Make Soba Noodles with Locals Contact Form