Experience the breath-taking beauty of the Seto Inland Sea as you journey by bicycle on this three-day adventure.
So happy we rode, explored, saw, ate, and admired the beautiful Shimanami Kaido. Huge thanks to our new friends at Hidden Japan Travel. Put this experience on your "must-do" list!
This Shimanami Kaido tour is the kind of thing we want to tell people about, but also want to keep to ourselves. Hotels, support, maps – everything was fabulous. Thank you so much Hidden Japan Travel.
We went to Tokyo, Hiroshima, and Kyoto but the Shimanami Kaido tour was the best thing we did in Japan. I was a bit worried about managing the cycling as I'm not very athletic, but I shouldn't have been. The food was amazing!
Cycle the world famous Shimanami Kaido for three days.
Truly explore the Seto Inland Sea with our local knowledge, gathered from years of living in this area.
Stay in small traditional accommodation with spectucular local cuisine.

Fully supported – we take care of everything and make sure you're safe throughout.
2.5/5 – Suitable for those with a reasonable level of fitness. You do not have to be a cyclist to enjoy this tour.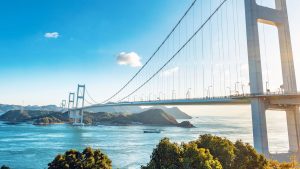 Cycle the Shimanami Kaido – 6 islands and 7 bridges from Honshu to Shikoku. To find out about the Shimanami Kaido, click here. Stay in traditional Japanese hotels that serve exceptional food from the area. Suitable for cyclists of all levels (novice-advanced). We take care of all bookings, luggage transfer, and provide quality cross bikes and helmets. This is a self-guided tour, but you receive our custom Shimanami Kaido guidebook to direct you to secret spots and the best restaurants. We also provide a phone in case of emergencies and we're always close by if you need support.
Two nights at traditional Japanese hotels
Dinner (first and second night)
Breakfast (second and third morning)
Bike and helmet rental
Support while cycling
Transport fees while on the tour
Luggage transfer
Custom guidebook with maps and information about the area
Phone in case of emergency
A water bottle

Day 1: On the morning of the first day, we'll meet you at Onomichi train station at 9.30, where you'll drop off your luggage and collect your bike. We'll give you all the information you need for your journey – maps, information about the route, money for the ferries. We'll see you to the port from which it's a short ride to the start of the route. The first day has a minimum of 35kms of cycling across four islands, although for those who want to a bit more of a challenge, there's plenty of opportunity for extension. We'll suggest places to stop off along the way, but you're in control – you have the freedom to explore these remote locales as you wish…hiking, swimming, sitting on a bench looking out at the sea…you choose (my personal recommendation is ringing the Buddhist prayer bell on top of Mount Shirotaki). When you decide you've had enough fun, your luggage will be waiting for you at your hotel. The first night is on a small island,only accessible by boat, at a charming inn run by a local fisherman, who serves what he catches that day…it's incredible. This is a sleepy place with narrow streets and traditional houses, where people greet you as you pass…it's a million miles away from the pace of Tokyo.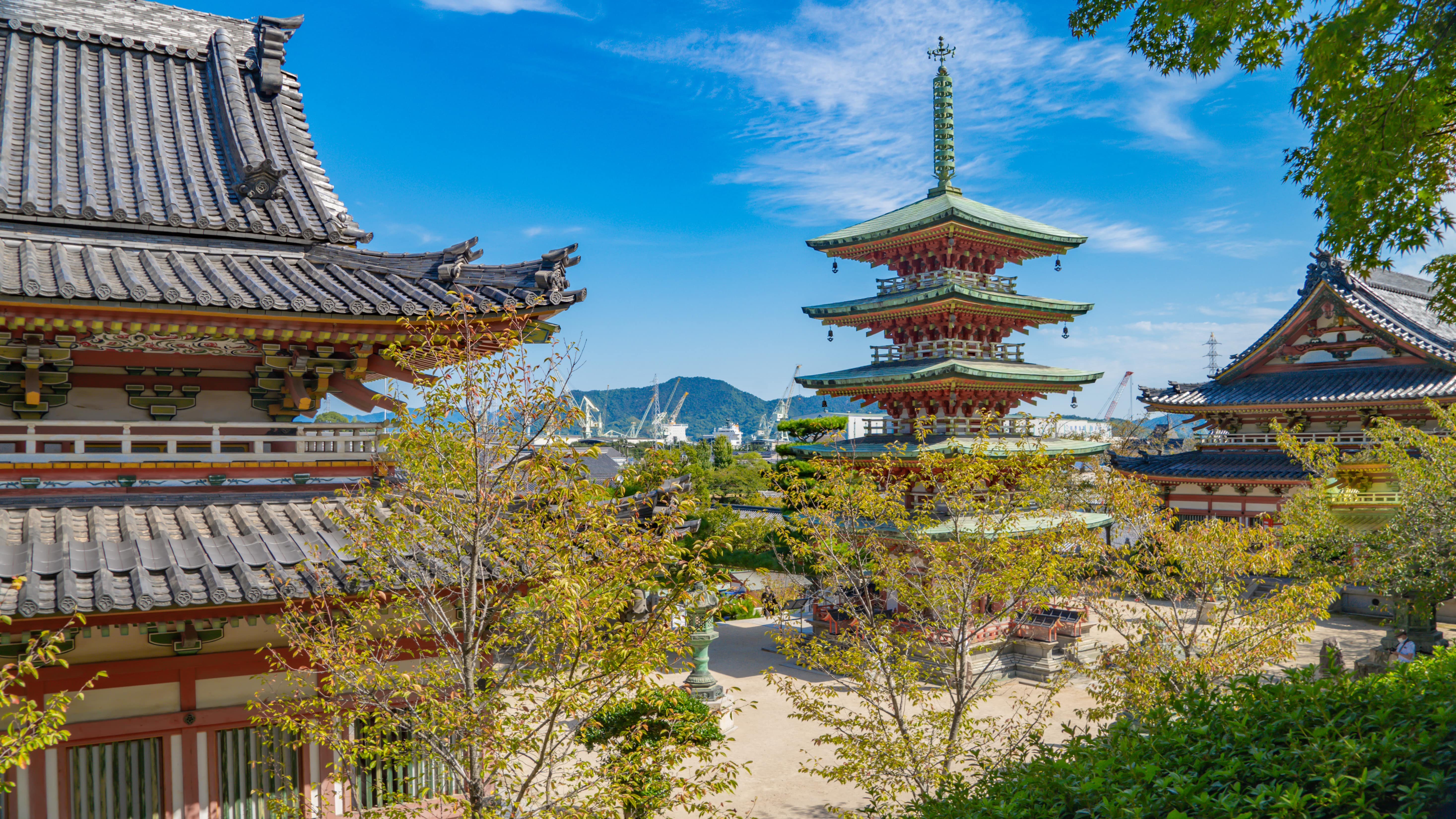 Day 2: Day two starts with a traditional breakfast. After leaving your luggage at reception, you've got another 35kms ahead of you. Short enough so that you have enough time to get off your bike and truly experience this landscape, but long enough so that there are plenty of places to explore. My personal favourite is facing your fears in the cave beneath a Buddhist temple…but really, you can't go wrong whatever you decide to do. After three more islands you'll arrive at your hotel. This is a small ryokan with exceptional food only metres from the sea. Sitting on the sea front and breathing in the sea air, before a first-class meal and a relaxing bath, that's how to truly see Japan.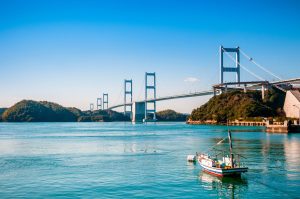 Day 3: After another traditional breakfast and leaving your bags for us to pick up, it's back on the bike one last time. On the final day you've got two islands to explore and the most picturesque bridge of the lot to look forward to…leave at least an extra 30 minutes for photos! After that, Shikoku awaits. Once you arrive on the island, you will head towards Imabari train station where we'll be waiting with your luggage and a smile. This is a wonderful springboard into Shikoku proper or an easy place from which to return to Honshu (by train to Okayama or boat to Hiroshima). Either way, we're sure you'll have special memories of this hidden part of the Japan, and a better sense of this fantastic country.
Start in Onomichi
Finish in Imabari
Maybe you're thinking "Is it worth doing a self-guided tour?". Well, yes! Not only do we take care of everything – accommodation, luggage transfer, bike rental – but we also provide very detailed maps. These have information about the history of each island and our favourite places to enjoy the local culture, nature, and cuisine. We hand-pick these locations based on our local knowledge of the area and the needs of our guests. We also choose great hotels – the ones with the most character, the best food, and the most relaxing views. We provide a phone in case you need to get in touch and electronic maps so you can navigate to your hotels easily. All this means that you can concentrate on having a unique experience that's facilitated by local knowledge and supported safely if anything goes wrong.
Adults – ¥68,000 per person
Children – ¥48,000 per person
If you are a resident of Japan, you may be able to access a 35% discount on this tour using the Goto Travel Campaign. For conditions, please click here.
We can also offer a sea kayak option. This would mean sea kayaking on the first day, then cycling on Days 2 and 3. The price of this is 82,000 yen.
Questions about this tour?