I give this Matsuyama tour 5/5. I enjoyed it so much. I loved seeing this city by bike. We saw so many places in a short time and had great food!
This tour of Matsuyama was the big surprise on our first trip of Japan. We were passing through Shikoku. Miho's tour was so all-around terrific that our visit to Matsuyama was a major highlight of our entire trip! We experienced so many things on this 5+ hour tour –  a small port village, several amazing food stops, a haiku tea garden, onsen foot bath, sake tasting. We did all this, leisurely biking from one place to the next, and stopping to chat with people along the way.
Loved the Matsuyama Food and Culture Tour. I saw so much in one day, took loads of pictures and have great memories. I could ask questions to our guide, Miho, who was great. We saw lots of local spots and had AMAZING food.
Matsuyama Food and Culture Tour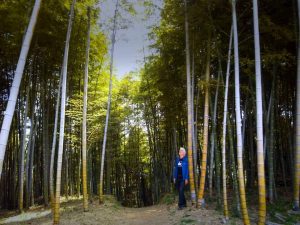 ​There's no better way to get inside Japan than to visit a city like Matsuyama. The city is off the beaten track, not your average tourist trap. It offers wonderful opportunities to experience traditional Japanese culture and eat great local food. It is  quintessentially Japanese – beautiful bamboo forests, ancient Buddhist temples, fabulous hot springs. We're biased of course, but we think our private Matsuyama Food and Culture Tour is the perfect way to see this hidden gem. Yes, this is a food tour – the only food tour in Matsuyama – but it is more than that.  We help you to explore real Japan, to cycle through the Japanese countryside, to experience local culture, to taste delicious local cuisine, to write haiku, to drink local sake…
When you're in Matsuyama, Shikoku, you should go to the castle, you have to bathe in the waters of Dogo Onsen. But the best thing about coming to a place like this is seeing the real Japan – exploring secret restaurants, having unique experiences, and encountering traditional culture. We help you do all of this on our private Matsuyama Food and Culture Tour – we help you truly get inside Japan.
This tour includes the following: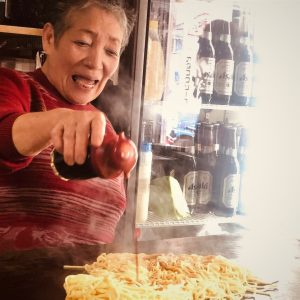 This tour starts at 11.30 am and runs until approximately 5 pm. A local guide will take you by foot, bike, an boat from a rural train station to the heart of this historic city. All of the following (and more) is included in the price of the tour. As this is a private tour, feel free to ask about anything else you're interested in. Also, if you'd rather not bike, no problem. We can organise this as a walking tour (but the itinerary would change from below).
Bicycle and helmet rental.
Walk through a bamboo forest to the site of an ancient castle.
Eat local dishes at two rural restaurants. This is a very filling and tasty lunch!
Cycle through small streets visiting interesting nooks and crannies.
Escape the city in the ancient garden of a haiku poet. Write Japanese poems, drink traditional Japanese tea, and eat traditional sweets.
Have a foot bath and learn about the origins of the oldest hot spring in Japan.
Try locally-made sake at a small sake bar (locally produced beer, soda, or juice are also available).
Some other things we'd like you'd to know
This is a private tour and we are happy to work with small groups 2-8 (if you have a group larger than this and want to take the tour with more people, please get in touch). All tours will be led by a guide who was born and raised in this part of Japan and who speaks English. Bikes, helmets, and water bottles will be provided.
Adults are priced at ¥12,000 per person
Children are priced at ¥8,000 per person
If you are a resident of Japan, you may be able to access a 35% discount on this tour using the Goto Travel Campaign. For conditions, please click here.
Questions about this tour?