5 Stars! It was perfect. 5 friends and I did this Japanese cooking class and it was unbelievable – really an adventure to rural Japan. The soba making and the gorge hike were amazing…and glad I went under the waterfall!
This Japanese cooking class in the middle of the mountains was awesome. Me and two friends spent an extra day in Matsuyama to do this and it was totally worth it. To actually have an cooking class with locals and local food, then an inspiring walk was amazing.
The cooking class was fantastic. The local ladies were so kind – it was a unique and personal experience. Then the nature was so beautiful. We felt like we were exploring a lost world. Would definitely do this again!
A traditional Japanese cooking class in the heart of the mountains of Shikoku, this tour offers you a window to authentic Japan. Travelling to a remote valley, learning to make Japanese Soba noodles with locals, eating lunch together, walking into a wild gorge to experience the awesome beauty of Japanese nature – these are just some of the highlights of this private one-day tour.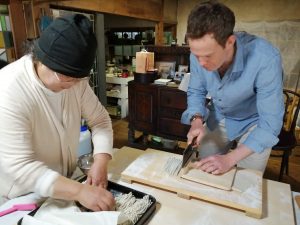 Making soba is a perfect entrance into Japanese cuisine and culture – whether you have limited cooking experience or are a Michelin-starred chef, there is nothing like taking a Japanese cooking class with locals surrounded by wild nature. On this trip, a local will show you the process of making soba – from mixing the flour and kneading the dough, to chopping and boiling the noodles. The vast majority of the ingredients you'll use are grown and harvested in the valley, lovingly prepared by the very lady who teaches you. After we've made the food, we'll all sit down together to eat the product of your hard work.
Following a filling lunch, we'll head a minute up the valley to the Namekawa gorge, a place of wild beauty. The walking here is not difficult and traces the river back to the head of the gorge – the appropriately named Belly of the Dragon. Standing next to (or in if you'd prefer!) the waterfall at the end of this chamber, looking down the gorge, you'll feel like you've entered another world, a lost world. The walk takes approximately 60 mins and offers you the chance to get away from urban Japan. We promise that the hustle and bustle of Tokyo will seem a million miles away as you breathe the fresh mountain air, get off the beaten track, and immerse yourself in nature.
The following is included:
This private one-day trip starts at 9 am and runs until approximately 4 pm. A local guide will meet you at Dogo station in Matsuyama City. From there you'll travel for approximately one hour to the valley. Please get in touch if you'd like to meet at another location. This tour includes: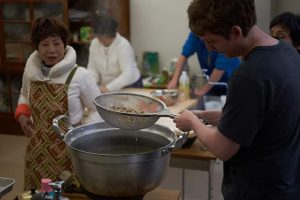 transport to the heart of the Japanese countryside

learning to make soba (buckwheat) noodles with local residents

lunch (soba noodles and some homegrown extras)
walking through a gorge
having tea in the Belly of the Dragon
transport back to Matsuayama – drop off at Dogo Tram Station.
Optional: A dip under the waterfall(!)
This is a private tour but we need groups of at least 3 to offer the trip. As the teacher needs to organise ingredients, please let us know at least one week before. All tours will be led by a guide who was born and raised in this part of Japan and who speaks English. All fees associated with the tour are included in the price. You are advised to wear sporty clothes and shoes that you do not mind getting muddy. There may be times when you have to walk through a little water. This is not dangerous, but your shoes might get wet. Also, it can be cold in the gorge, so you are advised to bring a jacket. If you want to go under the waterfall, please bring a towel and an appropriate change of clothing. There are a few ladders to climb up and down as you can see in the photos. These are metal and the tallest is around 10 feet. You do not have to use the ladders if you do not feel comfortable doing so.
Adults are priced at ¥10,000 (approximately 90 US dollars)
Children are priced at ¥8,000 (approximately 70 US dollars)
Questions about this tour?