Eat like a local and experience the real Japan as you learn to cook (and eat!) Japanese food with a family in Matsuyama.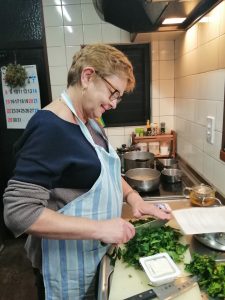 When we travel, it's the everyday life that's so fascinating. There is nothing better than being invited into the home of a local family, learning to cook traditional everyday food, and then sitting down to enjoy dinner together. It provides a window onto the local culture and allows you to see a country from the inside.
This cooking experience will show you a side of Japan that most tourists don't get to see. You will learn to cook traditional Japanese dishes with a local family. You will cook at least two dishes with an English-speaking Japanese local, before sitting down to enjoy dinner together. The focus here is on home cooking – not sushi, ramen, or kaiseki. You can ask for specific dishes if there's something you would like to learn (but we can't promise we can cook everything!). We will also account for any nutritional requirements you have.
This is a small-group private tour so you can really get to know your host. It gives you the opportunity to ask questions, get individualised instruction, and learn at your own pace. It is an intimate, authentic, experience that we think will be one of the highlights of your travels to Japan.
½ Day Tour
Meet your teacher at a train station and then walk to their home. Cook and eat dinner together. This experience lasts approximately 3-4 hours.
Start of the tour
We'll meet in Matsuyama city and then head to the first temple.
12,000 yen per adult
7,000 yen per child (12 and under)